DE
|
EN

Association to support education
and health in South India
At the end of 2012 Birgit and Manfred Staudinger initiated the assocition "namasteINDIA !", which especially supports projects for education and health in South India .
The focus of "namasteINDIA !" is on helping people to help themselves, the personal handling of bringing donations and one to one utilization of financial and material donations without loosing a cent due to administrative work.
The projects are accomplished in collaboration with the missionary order "Queen of the Apostles" which is located in Vienna, India and many other countries.
What's the meaning of namaste? (wikipedia)
In 1981 Birgit and Manfred visited India for the first time. This was followed by frequent travelling to many different places of the country. As a result they built a strong affinity to the people and they learned a lot about the problems and challenges in daily life of Indian people. During her medical study, Birgit already worked in a hospital and a leprosy ambulatory in South India in 1985.
In 2011 Birgit and Manfred travelled thru India by train for 3 weeks, in order to look for aid projects which can be promoted from Austria.
One year later Birgit decided to interrupt her business in Austria for 3 months, doing business at the Upahara Mata Hospital and Maria Nilayam Hospital as well as visiting schools, orphanages and retirement homes in Kerala.
Meanwhile Manfred coordinated the support for these projects from Austria and was able to invite a range of medical colleagues for collaboration. While visiting Birgit in South India , numerous medical materials as well as a financial donation for a cardiotocograph for deliveries in the hospital were forwarded.
By the end of
2012
Birgit and Manfred established a donation account. Based on that, "namasteINDIA !" was found in
2013
to support the development aid in South India.
2011-2013 images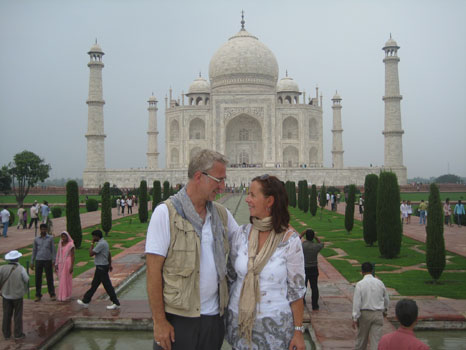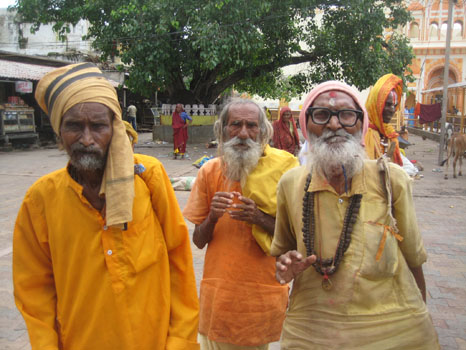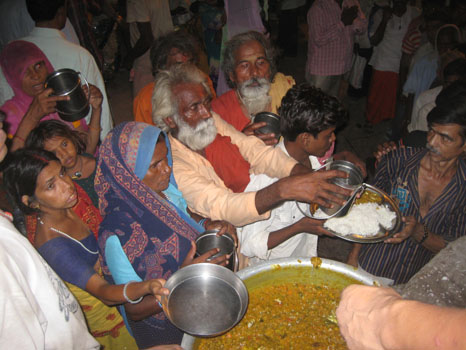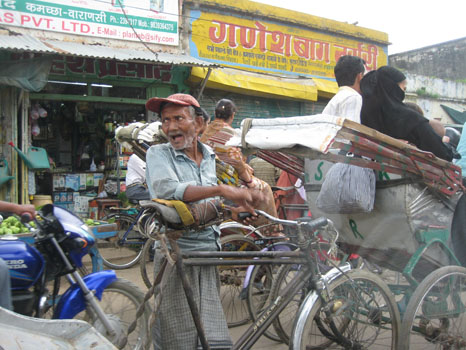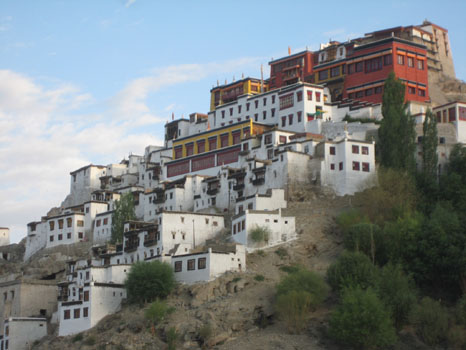 Travelog 2015
In this year, we travelled with approximately 150 kg of luggage, accompanied by our son and our niece, who wanted to get to know our projects.
Our first stop was Adimalathura, where we were welcomed very warmly at the Maria-Nilayam-Hospital. We handed over countless medical devices and aids, visited the newly built x-ray station, which was financed by our donations and were further able to make a significant contribution to help finance an urgently needed blood-analysis device by donating 3000€ to the hospital.
Dr Aji, Dr Lillian, and the leading nurse Sr Lennie are very grateful the donations made by our numerous donors.
Two days later, we continued our journey to Tuticorin in the state Tamil Nadu. With Sr Roselya, we visited many families in need who she has been looking after for years. We were able to buy a new bed and a mattress for a man who suffered a stroke five years ago and has since been paralyzed on one side of his body.
For Francis, a twelve-year-old boy with cancer, we made it possible to receive further treatment by supporting him financially. Since there is no insurance in India, all kinds of medical treatments and medicine have to be paid privately. Once again we realized how urgently our help is needed here.
The encounter with our sponsored family Mrs Vijaya and her five children was extraordinary. They showed us the well, which they were able to built with the help of our donations and which gives them fresh water to cook, wash, and for the use of the water closet. The gratefulness and smiles will stay in our memories for a long time.
For some days, we relaxed in the beautiful temple city of Madurai and at the shore of Mamallapuram – with tropical temperatures up to 37° C!
Our journey went on to Visuvasampatti in Tamil Nadu, where we will be supporting the new building of the Lourdu Mata Nursery and Primary School, starting this year. The ground floor is still in constuction - two more floors are in planning to be built. We donated 3400€ to for new furniture and computers. Supporting the construction of this school will be the main focus of our organisation in 2015/16.
We were very impressed when driving in the new school bus along with the children and seeing how they live with their families, how much they need our support and access to education.
After a ten-hour train drive - still carrying 60kg of medical aid in our suitcases – we were back at the west coast of South-India. We visited the Deva Mata Convent School in Vaddy/Kollam spontaneously, where we were told that after difficult and long building permit negotiations, the start of construction was now scheduled for April 2015.
Our last stop was the Upahara Mata Hospital in Koduvila, where we finally could deliver our last medical devices to Dr Kusumam.
Back to Adimalathura, our place of departure, we started planing a barrier free access to the first floor of the Maria Nilayam Hospital, a project that is of high importance and that we hope to be able to put into practice very soon.
After almost three weeks in southern India, we came back to Austria enriched with a lot of new impressions and motivations for our association "namaste INDIA!".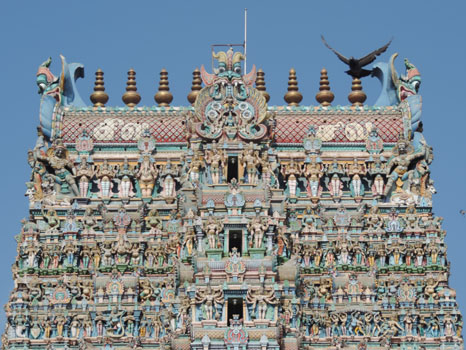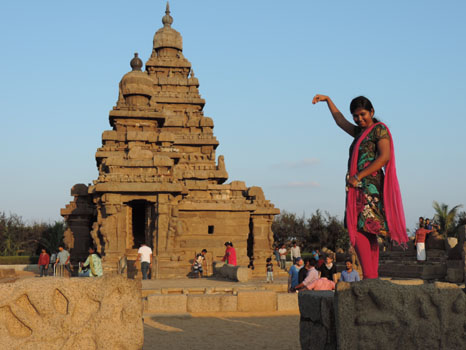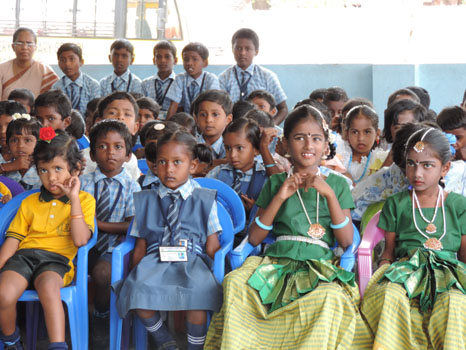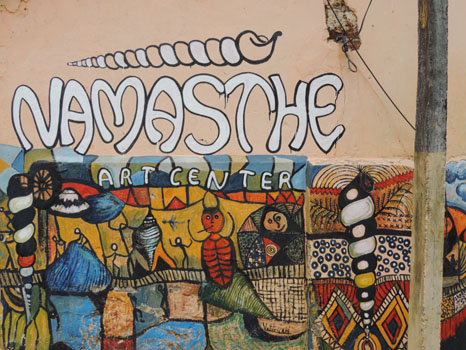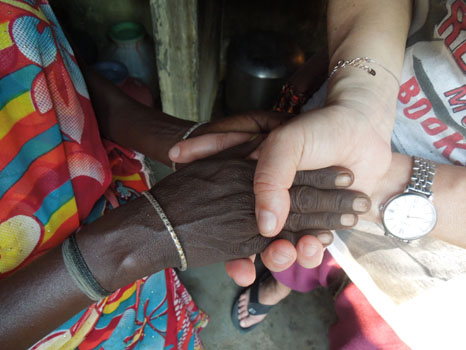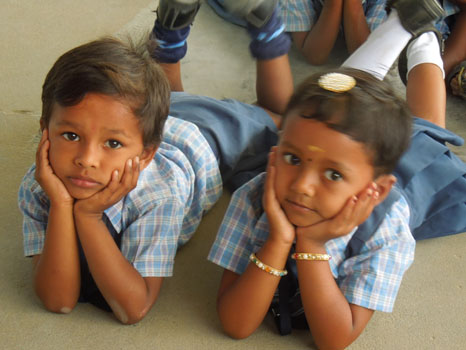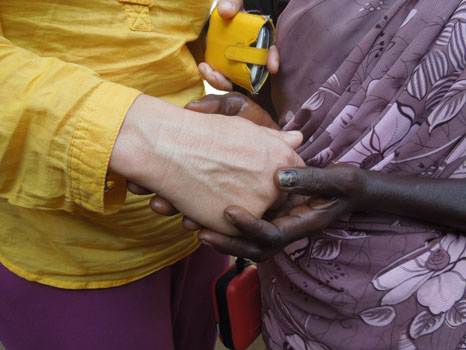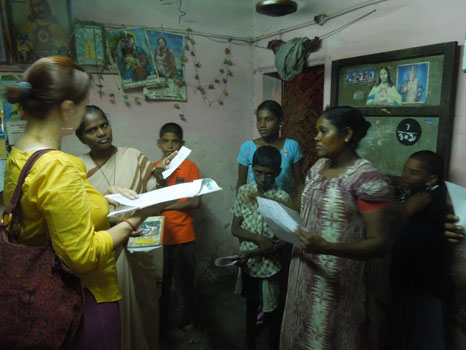 Travelog 2014
Loaded with 80 kilograms of luggage an ambulance car picked us up at the airport of Thiruvananthapuram in Kerala and carried us to the hospital of Adimalathura, 20 kilometres south. After a warm welcome by staff and friends, we delivered a donation for the X-ray unit in the amount of € 9.000.- as well as a range of medical tools and devices. As part of a tour through the hospital, we were able to make sure, the construction of the future X-ray station is in progress. After completition, the X-ray unit delivered from Dehli, can be put into operation. Dr. Aji, Dr. Lillian and Sister Lennie say thank you to all donators.
After spending a few days in Adimalathura we continued our trip to Tuticorin, Tamil Nadu state, on the east coast near the southern tip of India . This is the home of our host family - Mrs. Vijaya and her 5 children, living in a modest house without water supply. We support this family with a monthly subvention that children can go to school. Meeting our host family for the first time was really affecting and warmly - unforgettable the sparkle and enjoyment in their eyes. An additional donation enabled urgently needed purchases and a fountain construction. We also visited a boy that suffers from cancer and a patient who had been crippled by strokes, paralyzed on one side for 5 years as well. At least for a short time, both received benefits for therapies and medicines.
The road lead us back to Kerala on the west coast. On a brief visit at the Deva Mata School in Vaddy, Kollam, we heard from bureaucratic barriers regarding the school extension. Sister Jonila promised us, to keep us informed with schemes and photos. On the same day we arrived at the Upahara Mata Hospital in Koduvila, Birgit 's first project in 1985. Finally we were able to deliver urgently needed medical materials and devices to Dr. Kusumam. Our luggage has dropped for another 20 kilograms.
Maria Nilayam Hospital in Adimalathura, Kerala
Adimalathura is a small fishing village 20 kilometres south of Thiruvananthapuram. Most people of India rely on the hospital conducted by the missionary order "Queen of the Apostles", since they cannot afford a health insurance. The 25 bed hospital is modest but convenient, for example a X-ray unit was missing. 2012 a cardiotocograph for the delivery unit was able to be bought by a direct donation from Wolkersdorf about the amount of € 2.000.-.
In april 2014 Birgit and Manfred forwarded a donation in the amount of € 9.000.- on site.
At the beginning of 2015 the construction works of the X-ray station were finished and could be opened for the patients.
In future we want to support the enlargement of patient rooms, new machines for the laboratory and a way to the first floor without any barrier.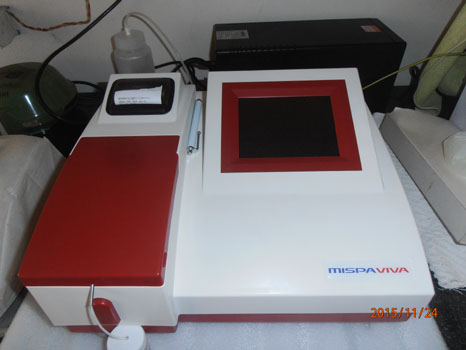 Upahara Mata Hospital in Koduvila, Kerala
The hospital of Koduvila is located 30 kilometres away from Kollam, in the midst of backwaters. The main focus is medical care for retired people. Unfortunately there is a lack of medical material like sterile gloves, suture material, blood pressure equipment and medicines. Thanks to quick assistance by friendly doctors from Austria, who made possible that Birgit and Manfred could support the hospital with medical material during their visits every year.
In future we want to give help for the geriatric care of older people, who can spend their last years in good adapted and hygienic buildings.
Deva Mata Convent School in Vaddy, Kerala
The Deva Mata Convent School in Vaddy, founded in 1962, is located in the city of Kollam. The school is out of repair, also 1.200 children at the age of 3 to 9 are teached in little space. Up to 70 kids, partly from poor fisherman´s families, are studying in one classroom. Unless they do not have to assist their parents, kids don´t have money for school materials, school uniforms and food.
A school in Vienna provided the school extension, enabled from additional donations.
After a long waiting time till getting the goverment permit, the construction of the new school building started in april 2015.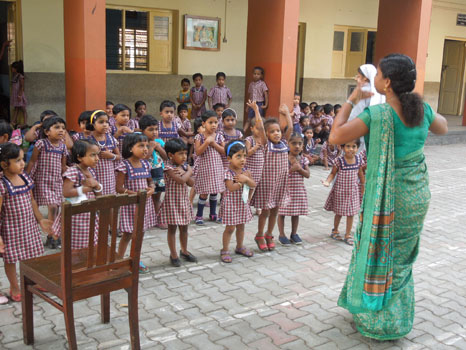 Lourdu Mata Nursery and Primary School in Visuvasampatty, Tamil Nadu
Visuvasampatty is a small village south of the city of Bangalore. Many families live there in need of help, working on road constructions and rice fields to ensure their day-to-day survival. Due to many inquiries for admission, an extension of the school, found in 1988 by missionary sisters, is required urgently.
A schoolbus for the children was donates in 2014
During our visit in april 2015 we saw the ground floor of the new school building in construction. About € 3.400.- from our association we gave at once for the necessary tables, benches and technical equipment.
This project for education will be the the main socialwork for our association in the next years
To complete the first and second floor we need a very big help from our donators.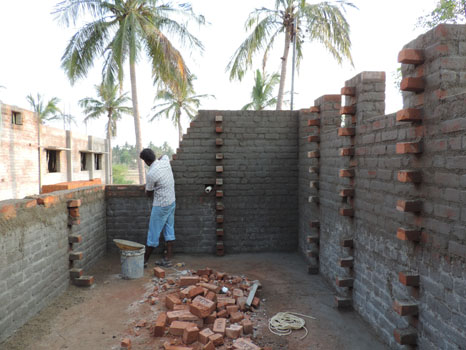 Home for Senior Citizens in Koviloor, Tamil Nadu
There is a lepra rehabilitation center, an orphanage and a weaving in Koviloor, all conducted by the sisters of the missionary order. In addition, an existing building will be formed into a nursing home. Four women are living there, but sanitary facilities are in poor condition. Restrooms and bathrooms need to be renovated instantly, so a minimum standard of hygiene and neatness can be offered to people in the late period of life.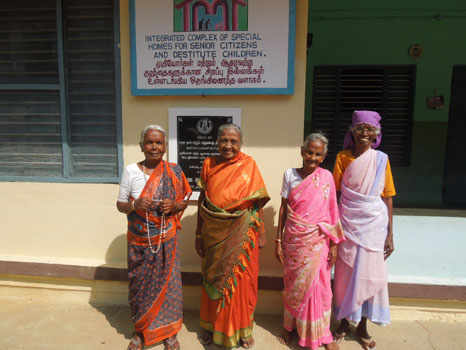 The annual taking place event INDIENday in ATELIERstaudinger in Wolkersdorf gives an insight into the life of South Indian population. The social projects and the colourful landscape are presented in films and photos. In the gallery and the gardens traditional and modern art are exhibited.
INDIENday 2017 - june 10, 2pm - 22pm
Lecture about Education in India
Film and photo presentation
Exhibitions
culinary delights by the restaurant "monsoon"
INDIENdays 2016 - june 11
Lecture about Education in India
Workshop Tabla / indian Percussion
Lecture about Woman in India
Film and photo presentation
Exhibitions
LIVE concert The Rajasthani Sufi & Folk Brothers ft Iqbal
INDIENdays 2015 - june 12/13
presentation of the social projects in South India
Special guest: Leslie de Melo "Fallen Angel" an artist from Goa in India
multimedia shows about the people, the landscape and this year´s trip to South India
exhibition and music from South India
culinary delights of the Indian cuisine
INDIENdays 2014 - june 13/14
introduction of the social project "namasteINDIA !"
mutimediashow about the trip to India in april 2014
live music and dance from South India by the association "raga"
culinary delights from the South Indian kitchen
INDIENdays 2013 - may 24/25
mutimediashow "INDIENportraits" about people and towns
live music and dance by the Indian group "vistar"
live concert with gary laowai and jacob rieser
culinary delights by the restaurant "monsoon"
exhibition about traditional and modern art from India

we welcome our members and want to thank all supporters and donators.
if you are interested in a membership, please contact us by mail or phone.
All annual subscriptions and donations are completely transferred to the projects in South India!
Donation account : Raiffeisenbank Wolkersdorf IBAN AT86 3295 1000 0007 6521 BIC RLNWATWWWDF
Association: namaste INDIA! Association to support education and health in South India
Chairman: Manfred Staudinger
Chairman deputy: Birgit Staudinger
Office: Hauptstraße 35, 2120 Wolkersdorf, Austria
Phone: +43 2245 6526
E-Mail: office@namaste-india.at
Donation account : Raiffeisenbank Wolkersdorf IBAN AT86 3295 1000 0007 6521 BIC RLNWATWWWDF